19th July, 2000 - Amsterdam, Netherlands
Present were (from left to right) TDO_Ravioli, TDO_Strac, TDO_SloeDjin and TDO_Kntajus.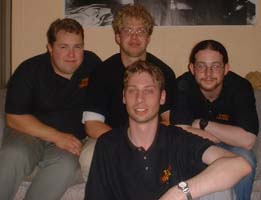 It was a warm Wednesday evening in July when three TDOers met at Ravioli's house to begin the trip to Amsterdam. Kntajus and SloeDjin had barely made it that far after Kntajus' exhaust had decided to detach itself from his car on the way down. Nevertheless they did make it in time and the trio set off for Heathrow airport. On arriving at Heathrow there was little time to take in the sights due to the traffic around Heathrow at that time of night. The three barely had time to eat some food before it was time to get on the plane, in fact they had to eat in a Burger King, rather than the usually preferred McDonalds.
[Index]
[Next]