22nd April, 2000 - Romford, England
Present were (from left to right) TDO_McBart, TDO_SloeDjin, TDO_Kntajus, TDO_Ravioli and TDO_Ve7.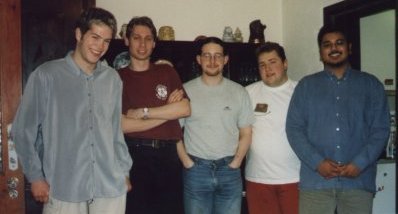 It was April 2000 and once again TDO members met at Ravioli's house for some LAN and beer action. Kntajus, McBart and SloeDjin arrived early Saturday afternoon with their computers, and Kntajus began work on setting up the LAN. Many hours later the computers were all linked and ready for action.
[Index]
[Next]